If you are like most dog owners, you probably want to bring your four-legged friend along wherever you go — including camping trips. Spending time with your dog can be incredibly beneficial to both of you. By strengthening your bond, you are encouraging your dog to trust you more and introducing them to activities that will keep them healthy and mentally stimulated. In turn, your dog can help you stay more active and develop your social skills. Plus, camping with your dog can be a lot of fun.
CHECK CAMPGROUND REGULATIONS
Although not every campground is pet-friendly, there are many places that welcome well-behaved dogs. Always contact a campground individually for information regarding their pet policy and rules. Here are some common general rules and etiquette that campers can follow:
Leash requirements: Most pet-friendly campgrounds still have leash requirements for the safety of all campers and their pets. Leash requirements vary from location to location, but the general rule is that the leash is no longer than six feet long for easy control. Some places may have additional restrictions, such as no retractable leashes.
Barking ordinance: All dogs bark and most campers and campgrounds are very understanding of this. However, if your dog barks uncontrollably or excessively into the night, be aware that some campgrounds may ask you to find lodging elsewhere.
Aggressive behavior: Pet-friendly campgrounds are a place for pets and their owners to relax safely, which means aggression is not permitted. For the safety of your dog and others, it's best to leave your pet at home if you feel they might not respond well to other dogs, new people, or unfamiliar surroundings.
If you want to keep your dog entertained while camping, search for a campground that has fun and dog-friendly amenities.
Schedule a Vet Appointment
Before you reserve your stay, schedule a check-up appointment for your dog.
Make sure your dog is:
Up to date on vaccinations: Your dog should be current on all vaccinations. Most pet parks and campgrounds require your dog to be up to date before entry.
Using some form of flea and tick prevention: The outdoors is an excellent place to have fun with your dog but be aware that fleas and ticks are common. Talk with your vet about putting your dog on a form of flea and tick prevention.
Microchipped: Microchipping your dog is not a requirement for campgrounds, but it is recommended. A microchip can help you reunite with your dog if they get loose while camping.
Groomed: It might seem counterproductive to groom your dog before a camping trip where they are likely to get messy, but it can help keep them safer outside. A hair trim can help keep your dog cool in warm temperatures. You should also have your dog's nails trimmed so they do not get snagged on anything.
What to Pack
In addition to standard camping supplies, camping pet-friendly means bringing along everything your dog needs to have a safe and memorable time. Some dog camping essentials include:
Dog food and a bowl
A bowl for water
Dog treats
Prescription medication, if applicable
Stake or tether
Extra towels
Dog first-aid kit
Outdoor-safe toys
A leash
A current photo
Vet records and medical information
An attachable ID tag
Dog waste bags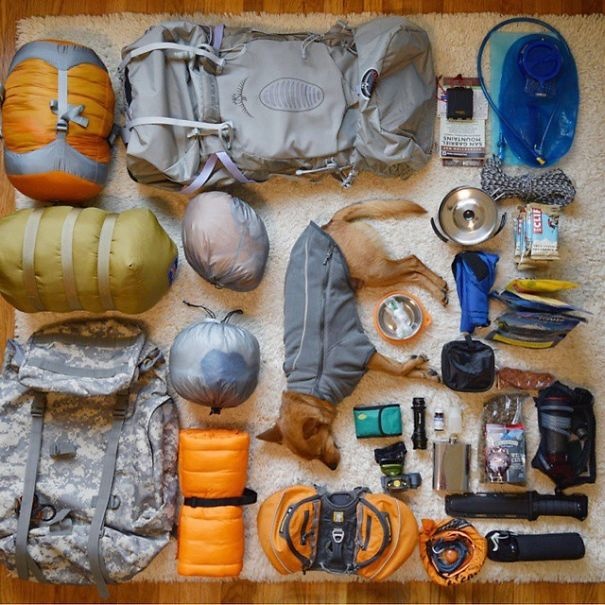 The following dog camping gear is not necessarily essential, but recommended:
A dog brush
An outdoor harness
A swim-safe leash
A doggy daypack
Your dog's bed
A dog rain jacket
Booties or paw protectant
To keep everything organized, consider using a separate bag for your dog's belongings.
TIPS FOR CAMPING WITH YOUR DOG
Plan ahead
Although a spontaneous trip with your furry best friend might sound like the dream, planning ahead is the best way to ensure both. you and your dog have a safe and enjoyable camping experience.
Planning ahead means:
Checking with the campground about their pet policy and rules.
Taking your dog to the veterinarian and scheduling a check-up.
Reserving a campsite early, especially during peak travel times.
Planning a travel route that includes plenty of pull-off opportunities for your dog to use the bathroom.
Preparing your dog for interactions with others, including obedience training, if necessary.
Investing in high-quality gear, including correctly sized harnesses and collars.
Never leave your Dog Unattended
Never leave your dog unattended while camping or traveling. This includes in the car, at the campsite, at dog parks and during activities. Keep in mind that just because your dog behaves well around others, other dogs or people might behave unexpectedly. To keep your dog safe and ensure they have a positive experience, make sure you constantly monitor them while playing in any pet areas or at the dog park.
Upgrade your gear
One of the most helpful camping with dogs' hacks is to upgrade your current gear. A standard leash and harness are suitable for your trip, but by implementing a few upgrades, you can help your dog have even more fun. For example, there are dog leashes specifically intended for swimming. They have anti-rust clips and float on the water, making them easier to grab. Reflective harnesses can make it easier for you and others to see your dog in the dark.
Watch out for Allergies
Dogs can feel symptoms of outdoor allergens, just like people can. If your dog is sneezing, itching, wheezing or has a noticeable ear infection, they may be suffering from seasonal allergies. Talk with your vet about treatment options and do your best to limit your dog's exposure during high-pollen times.
Bring plenty of Toys
Do not rely on the outdoors being enough stimulation for your dog. Although they will undoubtedly love the chance to roam and play outside, keep in mind that the weather can change quickly, or your dog might get bored. Plan ahead by bringing along some of their favorite outdoor-safe toys, including rope chews, plushies and tennis balls.
Provide extra hydration
Even if you are not participating in any high-energy activities, being outdoors and in unfamiliar territory means your dog requires more water than usual. You can gauge how much water your dog needs by their weight, activity level and the temperature outside. Adult dogs need about one ounce of water per pound of body weight each day, but your dog requires more outdoors. Use a collapsible water bowl to keep your dog hydrated on the go, and use a large, outdoor-safe bowl at the campsite. Monitor the bowl frequently and remove any dirt or leaves that may infiltrate. To keep the water cool for as long as possible, set it up in a shaded area.
Have a trial run
If you have never taken your dog camping before or they are new to traveling and the outdoors, consider working your way up. Some ways to prepare your dog for a camping trip include:
Taking longer walks:A successful campout with your dog depends on your ability to keep your dog safe and under control while at your campsite. You can work on your dog's on-the-leash behavior by taking it for long walks each day and practicing leash commands.
Relaxing outside:Is your dog a hermit? Some indoor dogs have little interest in the outdoors, but that does not mean you have to leave them at home when you go on a camping trip. Help them acclimate to the outdoors by spending more time in your yard or on your porch. Take some of their favorite toys outside or implement a reward system for spending time in the sun.
Socializing with others: If you are camping at a pet-friendly campground, there will likely be several other dogs and pet owners camping nearby. Practice your dog's social skills by taking them on a few play dates with other pups. This is also a good way to test your dog's behavior around others and see if you need to implement any further training.
Have a backyard campout: If you are unsure how your dog will respond to a camping trip, why not have a trial run? Set up camp in your backyard and behave exactly as you would on a camping trip — keep your dog leashed or secured at all times, spend time around a fire ring and invite your friends or family to join for social interaction. By assessing your dog's behavior in this controlled environment, you will have a better idea of how to prepare for the real deal.
Always keep your Dog secure
Keep your dog leashed at all times. Most campgrounds have leash requirements, and it is the best way to keep your dog safe. Leashing is especially important when taking your dog for their first walk around the campground. Chances are, they will start to feel a little overwhelmed or excited by all the new sights, sounds and other pets, and a leash is the best way to keep them by your side. This includes keeping your dog leashed while participating in activities, both on-site and away from the campground. A few exceptions include when your dog is sleeping in a secure place overnight, or when staying at a campground with a fenced-in dog park or pet play area.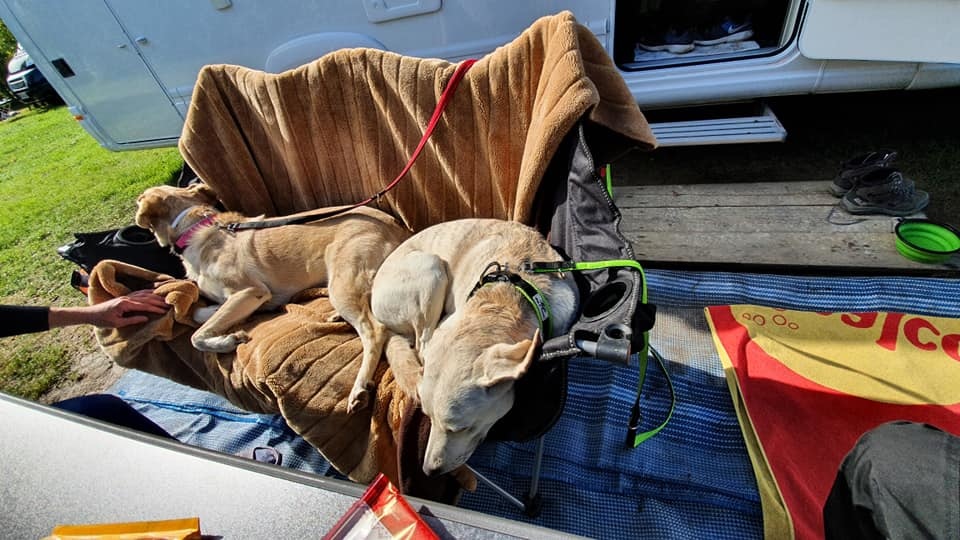 Watch out for Wildlife
Other campers and their dogs are not the only interactions you need to be wary of on your camping trip. You also need to be on the lookout for wildlife, including both plants and animals. Be aware of your surroundings when at the campsite and participating in outdoor recreation with your dog. Never let your dog drink from stagnant water and be cautious of lakes, ponds or rivers that could be infected by blue-green algae. Research local plantlife and know how to identify a potentially poisonous plant before going for hikes or walks.
Plan DOG-FRIENDLY Activities
If you are bringing your dog camping, it is probably because you enjoy spending time together. To make it fun for both of you, incorporate plenty of dog-friendly recreation. Some of the best dog-friendly camping activities include:
Hitting the trails
Visiting the beach
Going boating or kayaking
Exploring local parks
Enjoying an outdoor meal
Playing outdoor games
Remember, not all attractions are dog friendly. Many state and national parks, beaches, private trails and shopping and dining centers do not allow pets. If you decide to take your dog for a public stroll in a town or city near the campground, always consult local leash laws and bring plenty of dog waste bags.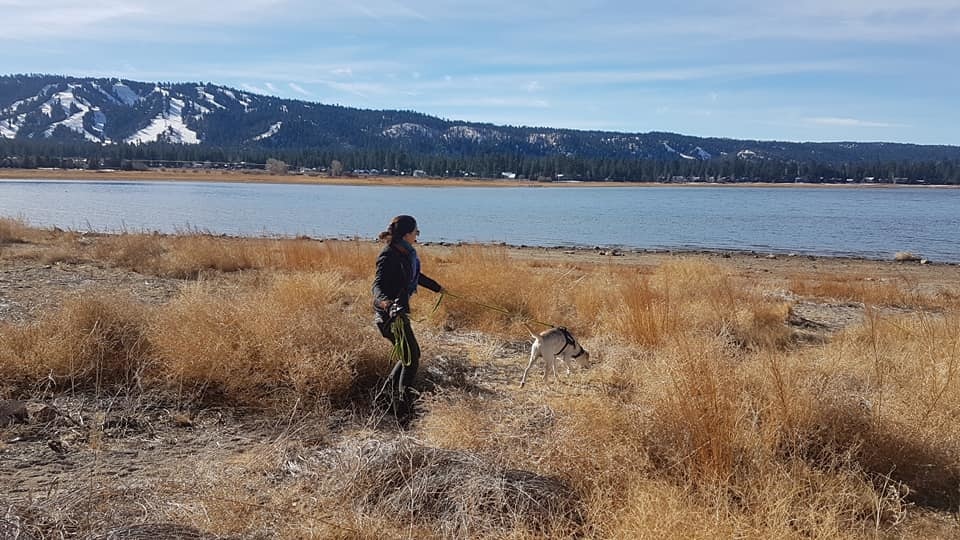 Remember the FIRST-AID Kit
Never embark on a camping trip without a pet-friendly first-aid kit, especially if you plan to spend a lot of time outdoors. Always carry your dog's first-aid kit with you while camping, participating in off-site activities and when traveling. Some first-aid kit essentials include:
Your dog's vet records
An up-to-date list of any current medications or recent treatments
Gauze
Nonstick bandages
Adhesive tape
Pet-safe sterile eyewash
A digital thermometer
Dog safety while camping
Camping can be beneficial for both you and your dog, but only if you do so safely. Because you are spending time outdoors and in unfamiliar territory, there are a few dog camping tips to keep in mind for a safe and worry-free vacation.
Beware of Overheating
Dogs can get overheated in the sun, just like humans can. Dark-colored dogs or dogs with an abundance of hair will get hot faster than most as well. Combat overheating by keeping your dog in a cool area during the hottest part of the day and monitoring their behavior while on walks or playing. Always keep cold water accessible.
To prevent overheating, watch your dog closely for the following symptoms:
Panting
Heavy breathing
Restlessness
Weakness
Disorientation
Agitation
Dry gums
Bright red tongue
If your dog is experiencing any of these symptoms, use the digital thermometer in your first-aid kit to take a temperature reading. A temperature of 104 or higher indicates overheating. Move your dog to a cool location, preferably in air conditioning or shade. Give them a bowl of cold water. Apply a wrapped icepack to their groin area and continue taking their temperature until they have cooled down. Should symptoms worsen, or if your dog is lethargic, unwilling to move or is having trouble breathing, take them to an emergency veterinarian as this could indicate heat stroke.
Protect your Dog's Paws
The pads on your dog's paws are sensitive to temperatures and abrasive materials, such as:
Hot pavement
Salt-melting ice
Ticks and pests
Cold and wet ground
Burrs and sharp rocks
Broken glass and other debris
To protect your pup's paws, use a pet-safe or veterinarian-preferred paw protectant or invest in a pair of booties. If your dog has never used any form of paw protectant or shoe, give them plenty of time to acclimate to it at home before going camping.
Travelling and camping with your dog not only connects you to nature but also to your pet. If you think your dog smiles when you go for a walk, bounces when you give it a treat, or rolls over for some loving rubs wait for the reaction you get when your dog goes camping. Camping can be a dog's dream come true…and for that matter yours as well.
                                 

 Never Camp Alone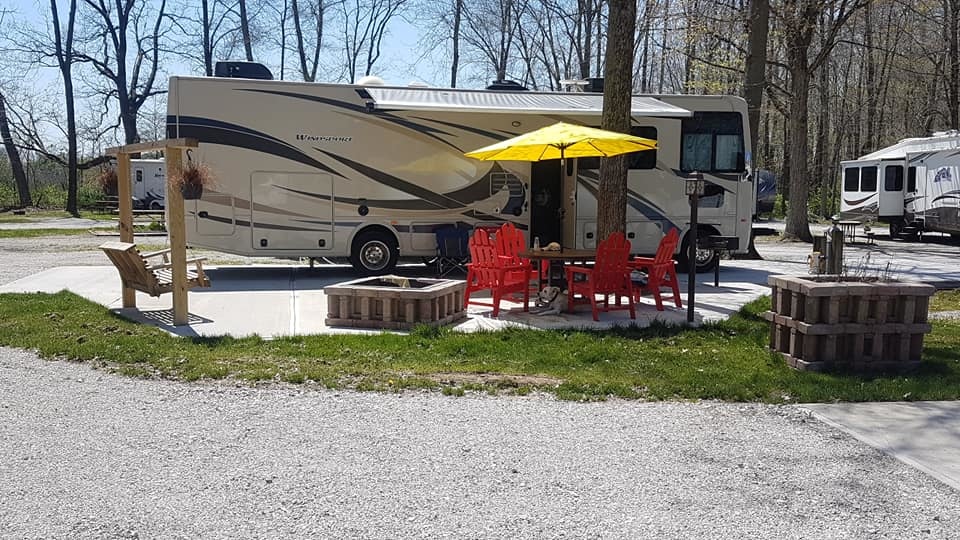 special thanks to KOA