While protests against Greyhound abuse are on the rise in Spain, CREL is launching a communication campaign at European level.
Appeal to European MEPs
CREL aims to raise awareness among European Parliamentarians about the ban on Greyhound hunting in Spain.
To end this, the Federation, with the help of various actors from civil society and the business world, would like to form an interest group that is able to advance the matter in front of political decision-makers. At the same time, CREL wants to raise public awareness where the abuse of greyhounds is still little known.
Therefore, the Federation hopes to benefit from greater visibility to expand its fields of action across Europe, including reaching countries like China or Australia who are also concerned about the problem.
In Spain, 50,000 to 70,000 greyhounds are released, tortured and killed every year
In Spain, Greyhounds are exploited to hunt rabbits. A practice that has been banned in France since 1844, but continues in Spain, the only country in the European Union where the government still approves it. The methods of the "galgueros", Spanish hunters, who use the Greyhound, and the inaction of the Spanish government and the European Parliament have been heavily criticized by European animal rights associations.
This is how the galgueros get rid of their unusable dogs at the end of the hunting season, using methods that border on barbarism: hanging up, acid burns, severed limbs and other mutilations. Greyhound training is also very problematic. They are attached to motorized vehicles and sometimes have to run more than 20 km.Females are locked in tight cages with no movement and have to give birth twice a year for several years until they are eliminated.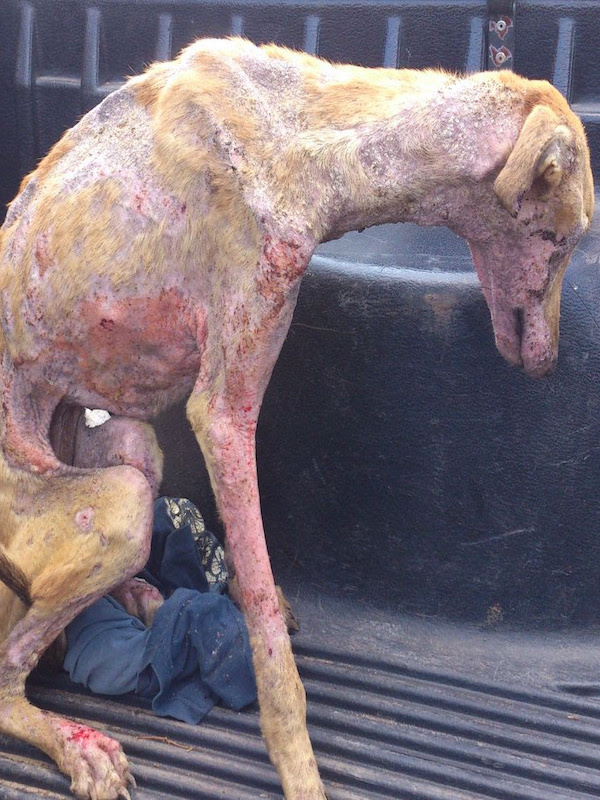 The tragedy of the Spanish Greyhound
The case of Daniel González describes the situation of the Greyhounds in Spain very well. Eight years ago, he picked up an abandoned, starving galga at a toll booth on the Burgos motorway: "It consisted of a skin and bones, with a shot in the leg and a cut through the Achilles tendons. We later found several shotgun pellets under the skin, "González says.
He christened her Audrey and tried to adopt her, but she had a chip:" It indicated that it belonged to a Navarre hunter who showed no interest and no surprise, when he found out that his dog had been found, "González explains.Audrey was brought to a killing shelter / perrera, which did not make her adoption easier until Daniel, with much emphasis and some arguments with the facility (and also to pay a small bribe: a box of chocolates), managed to get Audrey home. About five years ago, the story repeated in Toledo.....
Daniel found another female who was also hungry and deserted and whom he called Lost. Bad luck (and inability) caused Lost to have her leg amputated after veterinary negligence (they left some gauze in her leg after an operation and only noticed it after opening it eight times).
In Spain many Greyhounds are abandoned and not all cases end well. "Greyhounds are badly beaten, burned alive, sprayed with acid, thrown into wells, tied in caves and left to die, hung up or otherwise tortured," the European Parliament's Intergroup for Animal Welfare complained to the former at that time Prime Minister José Luis Rodríguez Zapatero and also reminded him that Article 337 of the Criminal Code has condemned cruelty to animals since 2010.
A letter to the Prime Minister, who of course gives no response. Recently, the Pacma Animal Party and other associations have protested against the abandonment or liquidation of Greyhounds at the end of the hunting season. 
10.4% of abandoned and collected animals in animal shelters in Spain were the result of the end of the hunting season, according to the results of the 2010 Animal Exposure Study conducted by the Affinity Foundation. The number is increasing in municipalities such as Extremadura, where it reaches 30.4%, or Castilla La Mancha, where it reaches 21%. Over 15,000 Greyhounds are collected each year, although animal scientists estimate that around 60,000 are abandoned.
These animals are used for field hunting, a modality in which greyhounds (usually in pairs) hunt the game (especially rabbits) without a chase, although they are also used for big game hunting. When hunting in the wild, the hunters advance in a row (called hand) and go quietly until the rabbit jumps and a hectic escape begins. Then the hunter releases the Greyhounds and the hunt begins. Every year there is a Spanish championship that ends in mid-February, the last one in the city of Madrigal de las Altas Torres. Everything still like in the Middle Ages.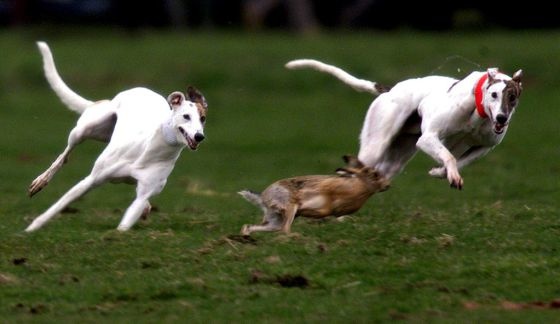 There are approximately 180,000 galgueros in Spain who "look after" around 500,000 dogs
Many are opposed to continuing this practice. "Greyhound hunting is a hunting activity in which the animal is used as a weapon. In other types of hunting, the dog does help and brings the hunted animal, for example. The Greyhound is the weapon itself, the shotgun and the galgueros are unarmed, "explains Cristina García Rodero, President of the Galgos sin Fronteras Association." It is a modality that, although there is no common European law, in all EU countries is prohibited in one way or another, "he emphasizes. This association and others are calling for this type of hunting to be abolished. They declare that they are constantly receiving a mountain of mail informing them of the appearance of abandoned sighthounds. The worst thing about the Greyhound problem is that it kills them with their intelligence. When chasing the rabbit in championships, they should take the same breaks, turn at the same points and go the same way. When the Greyhound notices that the diagonal cut of the rabbit's path is gaining ground, it loses its grace and is considered a successful dirty Greyhound," says García Rodero.
Many Greyhounds are left later or, worse, hung up, as can often be seen in macabre images that go as far as international news. If a Greyhound is hung on the floor with its hind legs, it is said that it will "play the piano" because its front legs remain in the position of the pianist. This is something of a terrible, very Spanish tradition. "They often say that a Greyhound is not worth a cartridge, so hang it up with a rope," explains the president of Galgos sin Fronteras. "Lately they have been burned so as not to leave any traces."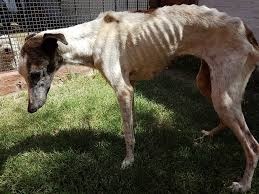 The thing is not new: in 1991 the Irish Racing Board, an organization that regulates the export of racing dogs from Ireland, prohibited the export of these animals to Spain to prevent them from hanging on a tree, which of course is the case and so on does not give a very good picture of Spain abroad.
Fortunately, greyhounds are increasingly valued as pets, possibly due to the efforts made in various campaigns to promote their adoption, and many of those who survive and are collected in animal shelters are adopted in Spain or abroad. The case of Daniel González and the Pups Audrey and Lost. 
It remains to be seen until the EU community finally takes action and puts pressure on the Spanish government to ensure that the existing animal welfare law is also monitored, applied and condemned. We had to unfortunately experience ourself repeatedly that criminal charges were reinstated because they knew each other from earlier in the communities ......