Well socialized? No, well traumatized!
Honor the who deserves honor: The idea for this article is from this blog post http://www.whenhoundsfly.com/well-socialized-well-traumatized/
by Andre Yeu, owner of the dog school "When Hounds Fly" in Toronto. Like Andre it gets dizzy again and again when I watch what happens in so-called free dog play and what kind of psychological long-term damage is being done while the owners are watching the whole thing unsuspectingly smiling and basking in the good feeling that they do something really good for their dog regarding his socialization.
By Ralph Rückert, veterinarian
From all sides - including us - the new dog owner is recommended to promote the contact of his dog to other dogs in order to achieve the best possible socialization. Not least for this purpose are also gladly visited the puppy gardens of the dog schools or you go specifically to the local "dog walks". A good socialization is never really complete. So you cannot rest on laurels acquired in puppy age, but should give the dog time and again opportunity to interact with conspecifics.
Only, as often happens in real life, this is unfortunately completely reversed and leads in some dogs to such serious trauma that the owners have to fight with it for life, without even suspecting that they (and of course their dog) have really messed up this situation.
The central misunderstanding is a sentence that I can no longer hear without almost feeling sick: "The dogs have been doing this among themselves!". Wrong, wrong and wrong again!!! When we let dogs "do that", we neglect our obligations to our own dog, our protégé, in the most criminal manner. It is a breach of the agreement we have with our dog: He literally gives us all that he has and what he is. He always wants to please us and watches us like no other animal, to know what he has to do for it. He puts his whole life in our hands, seemingly unconditionally, which is not true. He expects leadership, protection and safety first and foremost from us.
Dog Park/ dogs meadows / Dog Beaches: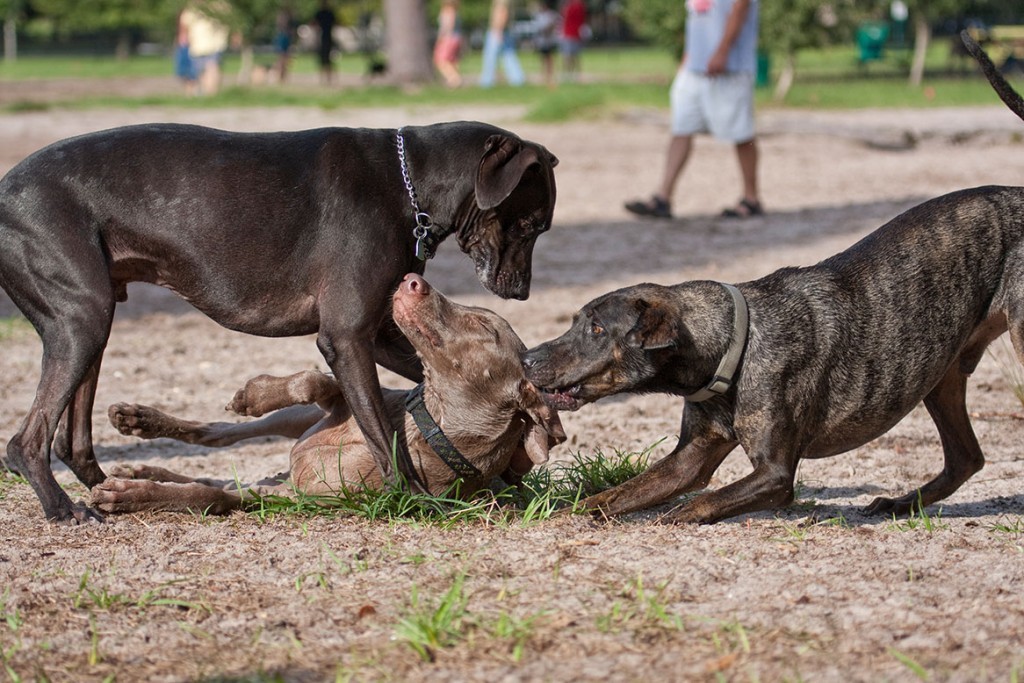 The interaction on the dog's play areas can be dangerous if dog owners can not "read" their dogs and intervene at the right moment.
So it cannot be absolutely certain that we determine everything in our dog's life (diet, sleeping place, excretory behavior, physical activity, etc.), but stay out of it in the moment when our dog would most need our intervention; because it can be very good that we either make him a lifelong victim or a notorious perpetrator, during which we sit back and put our hands in our lap.
Please take these six minutes from your time and watch
this video
from Sue Sternberg's Red Alert Behavior Series, to help you understand what I mean and what it's all about.
We see in this video both victims and perpetrators, both made by their owners what they are. The little brown dog is almost bullied by other dogs, and pretty bad. She's desperately trying to get help from her owner for a long period of time while she's sitting on her bench completely ignorant, probably convinced that she's giving her dog positive social contacts.
In the second half of the video, we see something that is very common on dog play areas, but is not usually recognized as a problem: there is a brief confrontation between the white-and-black terrier and the female husky, then the Terrier hunted across the field at very high speed. At first glance, this looks like a race game and completely harmless, in reality, in the context of the previous confrontation, this is a dangerous process, because the female husky by no means playfully races with the terrier, but in the sense of a Hunt sequence tracked. The thing has the potential for an end with blood and tears all the time.
Another, not shown in the video, but always to be observed and highly problematic matter is the so-called Rolling (reeling, rolling over). It often does not look so dramatic from the outside, but is a very aggressive behavior. The dog that rolls over another says it pretty seriously. And the one who is being overrun may have very bad cards in the further course without intervention of his owner.
All of the dogs shown in the video would have been entitled to their owners intervene immediately. For the victim, to stop the highly scary situation immediately, so that it does not come to further traumatization, the perpetrators, so that they are not still confirmed in their (partially self-rewarding) behavior and ultimately unbearable Rowdies. Such an intervention can be very simple, as in the case with the little brown dog: one goes between the dogs and takes his own, so the fearful dog, out of the fray without further ado.
But it can also be very problematic: a high-speed chase like between the husky and the terrier is virtually impossible to interrupt. In that case, decisive intervention at an earlier stage would have been necessary. But it would need the highly concentrated attention of the owners of all dogs involved. The free interaction of several dogs is absolutely not the right time to look at the landscape or play around on his smartphone.
Even better, some of the dogs appearing in the video - especially, of course, the little brown dog - would not have been brought to this dog playground. Better no social contact as such an encounter! If you want to say it bad, you could say that the owner later searches the internet at home for tips on how to treat her poor scared dog, tips for what she has produced herself and makes her dog even more anxious.
So that we do not get us wrong: Even a dog does not have to be packed in cotton. He may - better even: should! - In free interaction with conspecifics sometimes frustrated, stressed or within certain limits approached / rebuked. But only as far as his individual coping strategies are sufficient. The dog in the video is completely overwhelmed and knows absolutely nothing more to help. It is our responsibility as owners to interpret the signs correctly and to pinpoint when it will be too much for our dog. This is racially dependent and also highly individual, which is why there can be no universally valid advice. If you feel insecure due to a lack of experience, if you can correctly recognize when your dog can no longer handle a situation alone, you need to get help from a specialist. They like to do that!
Which brings us to the dog schools. In my experience, the times of "The dogs are already doing this among themselves" are long gone. Many trainers are really very attentive and intervene immediately when needed. Nevertheless, one can still sometimes observe that in puppy lessons all the owners stand around the trainer and listen attentively, while - completely unnoticed - a puppy is mercilessly bullied into the corner. Stay alert! Something like that just cannot happen in this super sensitive phase in your dog's life and would be a very good reason to change the dog school.
But the other way around is also made such a thing: Many new dog owners (so deep in the heart) a little proud, if their puppy in his group proves to be particularly assertive. There is no reason to intervene; Somehow it makes you feel good - but usually only ends in sexual maturity. Then you suddenly have an insufferable bully with you and wondering. A good coach will try to make that clear to you early on.
Make sure that in puppies hours no interaction they have with adolescent dogs. For robust puppies of some breed groups, it may not be a big problem if they are quickly rumbled or overrun by a juvenile dog, but in others the germ of lifelong aversions is laid at this early stage. A correct puppy group consists of a maximum of six animals halfway of the same age and of halfway balanced height. An eight-week-old Chihuahua cannot simply be thrown into the same group with 16-week-old puppies of large breeds or with several powerful terriers.
So: DO NOT hold out! Intervene, both when your dog is the victim and when it turns into the culprit. Your dog looks up to you and trusts you in all things. This trust can be cruelly and permanently disappointed if you are not prepared to protect your dog from any damage, also and especially by conspecifics. Most owners would be highly aggressive if a stranger kicked or punched their dog. That's okay, but then it does not make any sense to stand by while the same dog is being bullied by a conspecific. And if it is your dog, who is currently practicing bullying at another, then quickly wipe the proud grin off your face and step in between.